Many people ask me if I think discounted real estate brokerages are worth the saving. There are several factors to consider when evaluating a brokerage. At the top of most people's list are trustworthiness, track record, and costs (it is a financial transaction, after all). Obviously, I am biased but fret not; the numbers tell the real story. Here are some important factors we can put numbers to:
Sale Price – How much will your homes be sold for, does a discount brokerage deliver the same sales price as a boutique firm?
Commission costs – Your home is a huge investment of course the overall cost should be considered, but what does the lowest cost in commission cost you in sales.
Net Sale – At the end of the day how much money do you keep, boutique vs discount brokerage.
Here we have pulled data for the last 9 months from the MLS for the 94605 zip code in Oakland. It covers Sequoyah, Millmont, Hillsmont, and Oak Knoll neighborhoods. Below we have ranked the active brokerages by average sales price for single-family homes with 3+ bedrooms and 2+ baths.
SALE PRICE – As you can see NOVA ranks #1 for this area while Redfin ranks #38 at 56% the price of the top-selling brokerage. That is a huge difference in sales price, does reduced commission benefit make up for it?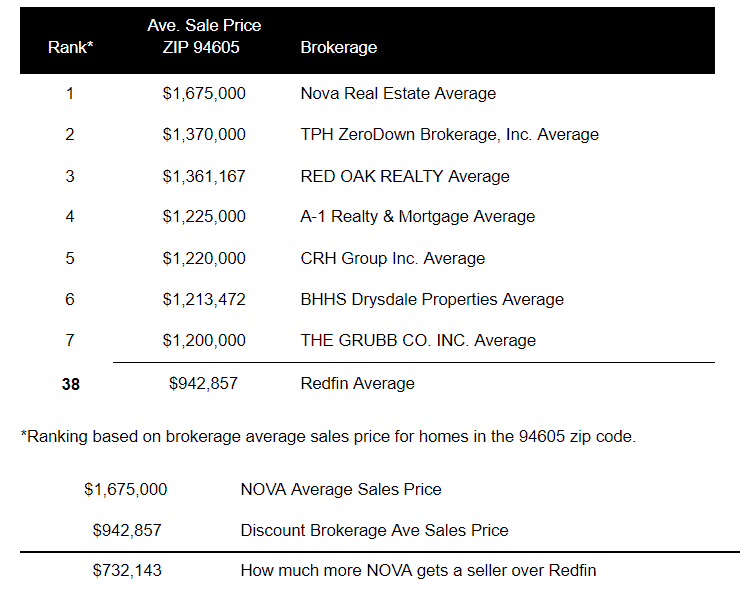 REDUCED COMMISSIONS – when discount brokerages advertise they tend to focus on a 1% commission to list your home with them. What they don't tell you is that it only covers half the transaction. In every real estate transaction, there is a seller and a buyer. While the discount of 1% commission is real, it only applies to the selling side of the transaction. They still offer 2.5% – 3% to the buying side agent, putting the total commission in the 3.5% – 4.0% range. This compares to NOVA's average commission of 5.5% split between buyer and seller agents. As you can see below this 1.5% difference does add up. Also note that each commission has been multiplied by their statistical sale price, with the boutique being almost double the price for a similar home in a similar area. You are getting a higher sale price so the commission will be higher.

NET SALE TO SELLER – finally we look at what the seller should expect to get from the sale of their home minus commission fees. You can see that the $54k difference in commission fees doesn't even come close to the difference in top-line sales performance offered by boutique real estate brokerages.

So when someone asks me if I think discount brokerage firms are worth it, I say "no", and I give them 677, 732 reasons why.